We're excited to announce a new feature that enables you to
manage files
directly within your event. With this update, you can easily upload, organize, and share files with your attendees.
We have designed this feature to let you manage all files of your event centrally in the cockpit. Then, you can add just a subset of the files in the rooms or in the navigation bar with a new type of area.
To manage your files, you'll find a new section called "Files" in the cockpit that provides access to all files available in your event.

In the manage files section, you can:
Create

folders

and

subfolders

to structure your repository.

Upload

files via the upload button or by dragging and dropping files directly to the folder you want from your computer's file explorer.

Rename

or

delete

files.

Move

files between folders via drag and drop.

Copy

files from another event in which you are a host.
To give access to these files to your attendees, you have two options:
Inside a room as an app.
In the navigation bar of the event.
To add the files explorer as part of the room, you can edit the room and add a new app. Here are some configurations to consider:
Select the

type

"Event files" for this app.

Folder path

: This setting allows you to show only a subset of your files. It shows all files and subfolders of a given path. You can also show all files of the event.

Allow file download

: If enabled, attendees will be able to download the file. If disabled, only files that can be previewed will work (PDF, images, and office documents).

Allow preview for Microsoft Office files

: Enabling this configuration enhances the preview of Microsoft Office files by using a service from Google Drive. Your file is still stored on our servers, but it needs to be accessed by Google services to render it. We added this configuration for your acknowledgment, but we strongly recommend enabling it.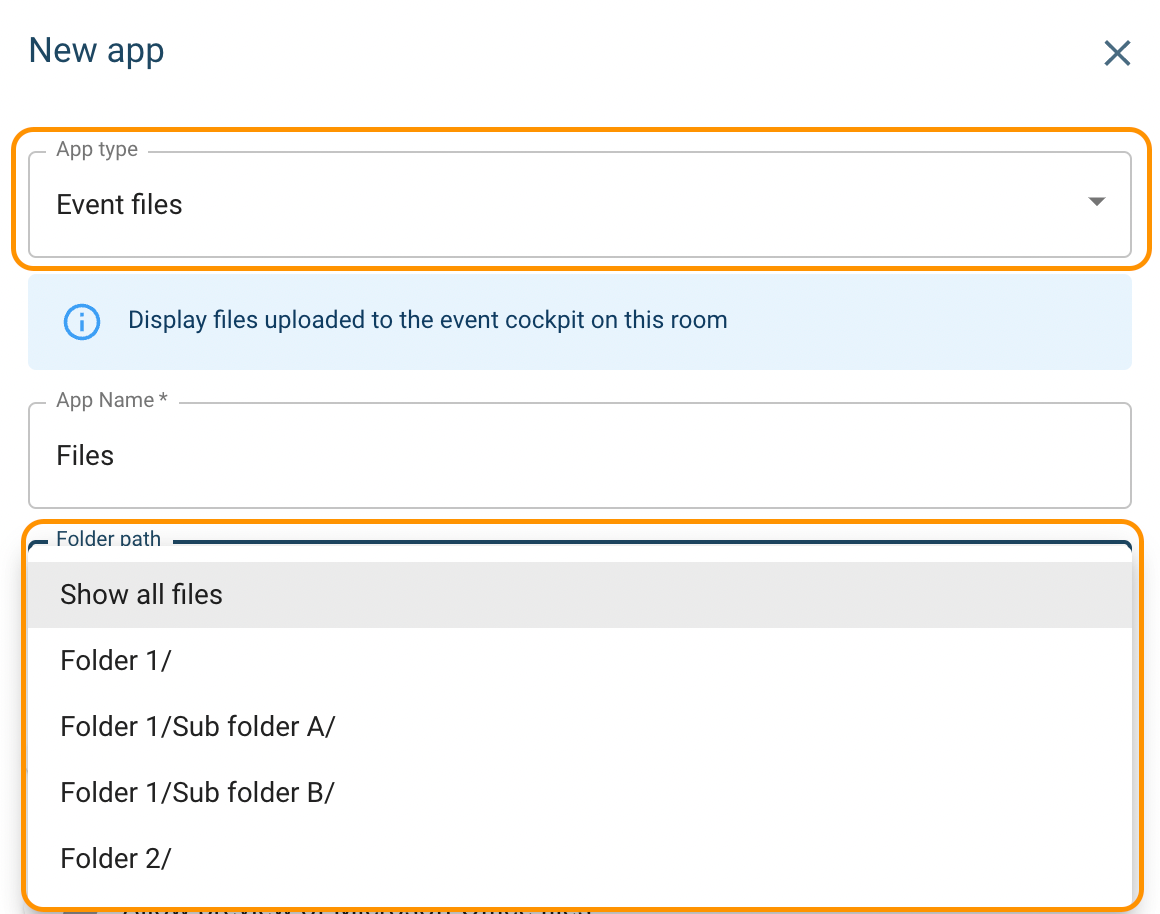 Inside the rooms, your files will look like this:
You can also add the
file explorer to the navigation
bar by creating a new area in the "Look and feel" section of your cockpit. Simply select the area type as "Event files" and apply the same configurations as explained above, including the folder path and other settings. You can also enable the area for users with a specific tag.
This will allow your attendees to easily access and navigate through the files from the navigation bar without having to go into each room separately. It's a great way to keep your attendees up-to-date with the latest files for your event.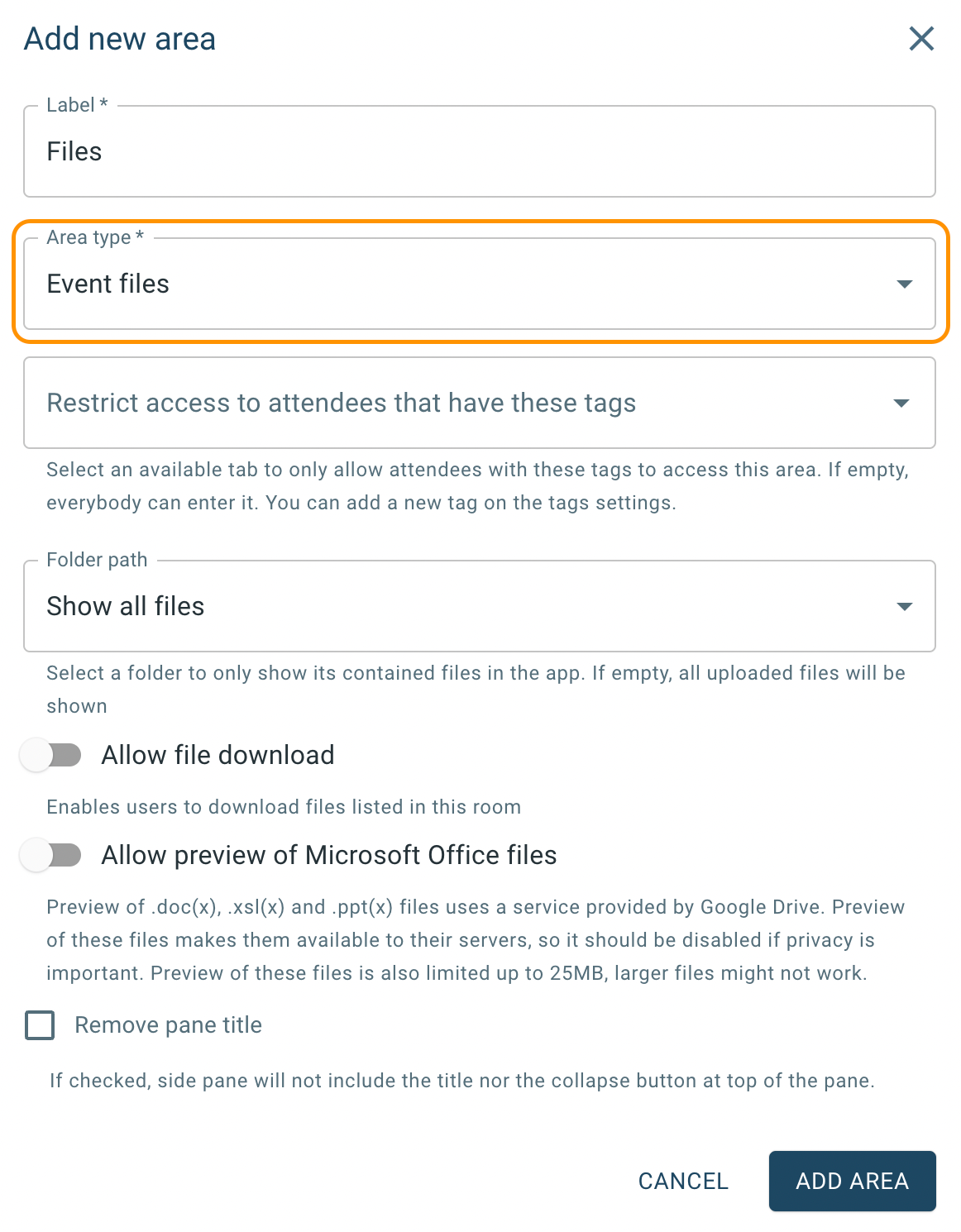 They will look like this: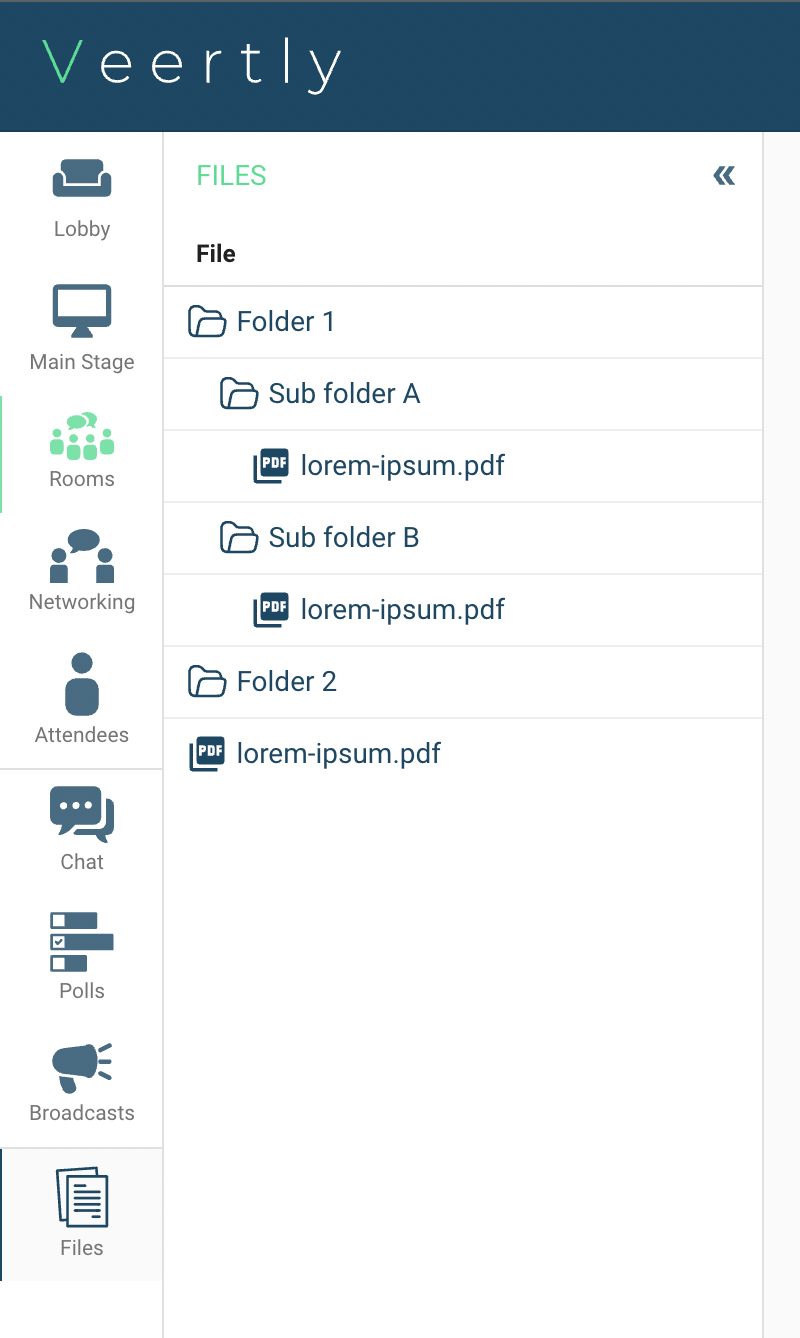 We're confident that this new file management feature will make it easier for you to manage and share files with your attendees. If you have any questions or suggestions, please don't hesitate to contact our support team.